I know it sounds totally corny when written out like this, but I am quite the Tony Bourdain buff. He has the best show about food currently on TV and he is living at least one of my ideal lives. Basically, I'm continuously devouring all things this celebrity writer/chef/traveller/foodie has a hand in.
A favorite destination of his is Vietnam. This is a good thing for me, because I adore Vietnamese food. While in Paris this semester, I have tried to make it a weekend tradition of mine to go have a bowl of Phở soup in Chinatown. Unfortunately, my visits to the Phở-mongers have not been quite as regular as I had hoped.
This is why I was so happy when I discovered that there are a couple places around here that make authentic Banh Mi. Notably, there's a hole-in-the-wall run by a Vietnamese lady in the 3rd, at the border of Marais. I decided to go there monday to get my share of Franco-Vietnamese fast food.
The Banh Mi stems from the time of French colonization of Indochina. The French intruders brought their baguettes with them and combined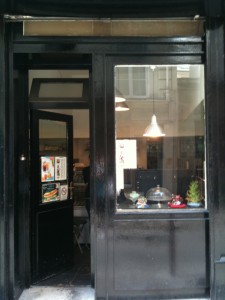 with south-east Asian produce and traditions, this is the result.
The place, which is quite new, having opened about 7 months ago, is really tiny and thus only sells to go. Vietnamese food in general and the Banh Mi-sandwich in particular is all about really fresh ingredients. That, combined with the fact that a small place like this lives and dies with its reputation, makes for an operation where everything is prepared almost to order.
I ordered the caramel pork Banh Mi, not too spicy, paid my measly 4€ and left to enjoy it in the sun. The baguette as delightfully crispy on the outside and fluffy on the inside. It was filled with heaps of pickled carrots, cucumber sticks, lots of coriander leaves and stems and the sliced caramel pork.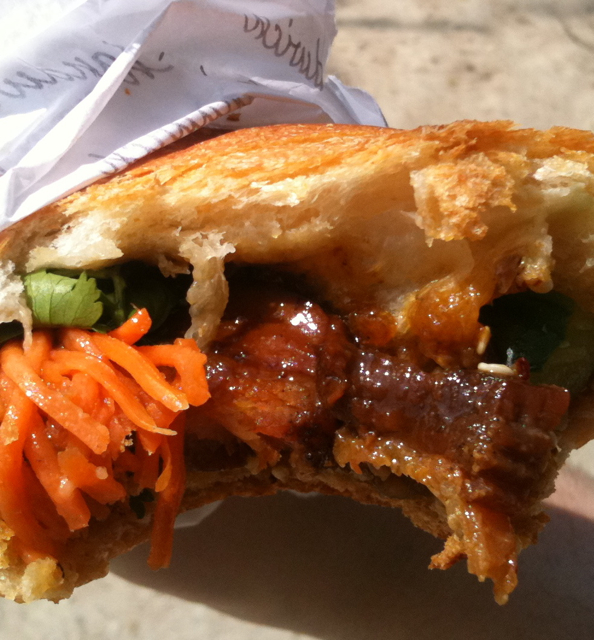 The textures of crispy bread, chewy carrots and cucumber and very soft, tender pork belly went really well together. Flavor wise, the pork had a very flavorful and nutty caramelization (enhanced by a smearing of sesame seeds), with a sauce that was actually quite spicy, even though this was the mild version. The picked carrots really helped take the edge of the spice though as well as lift the sandwich overall with a not too tangy pickle.
The only downside was the lack of pork flavor, which was probably disguised by the caramel and the carrots. Next time I'm going to try the grilled pork version to see if it's really everything I've ever dreamed of.
Bánh Mì
7 Rue Volta
75003 Paris